With so many types of digital advertising, it can be hard to narrow down your audience or decide which Internet placements will put your business's ads in front of your most qualified potential customers. Let display advertising do that for you!
Display advertising is an effective way to increase awareness of your brand and drive traffic to your website or landing page. Though commonly referred to as banner ads, display ads can take many forms and show up in different areas of a web page as a user is surfing the web.
Where do display ads appear?
Display ads allow your business to showcase your brand's message across the web using Google's Display Network, with access to over 2 million websites for possible ad placements. We'll help you capture your audience's attention while they're browsing their favorite websites by designing and creating captivating ads tailored to your message and your customers' interests. We'll also help you manage and report on these campaigns, showcasing the strengths and outcomes for your business's campaign, as well as recommendations on potential areas of improvement. At the beginning of every month, we'll provide you with a report of the campaign's performance, including impressions and clicks, top performing keywords, call details, and more.
We'll also keep a close eye on your campaign's progress, and discuss any potential changes that could made along the way to improve your ads' performance.
Trust your ads with a Google Partner.
Pulse Marketing Agency is a Google Ads partner, with all of our marketers certified in Google Ads. We re-certify every year to ensure that we are up-to-date on the most recent and relevant information regarding Google Ads, providing us with the most updated knowledge possible to put behind your company's campaigns.
If your business is looking to reach a larger audience across the web, contact us today to learn how we can take your marketing efforts to the next level by developing and placing your display ads in front of the most qualified audience possible.
Display Advertising Samples
CypherSafe – CypherWheel Product Ads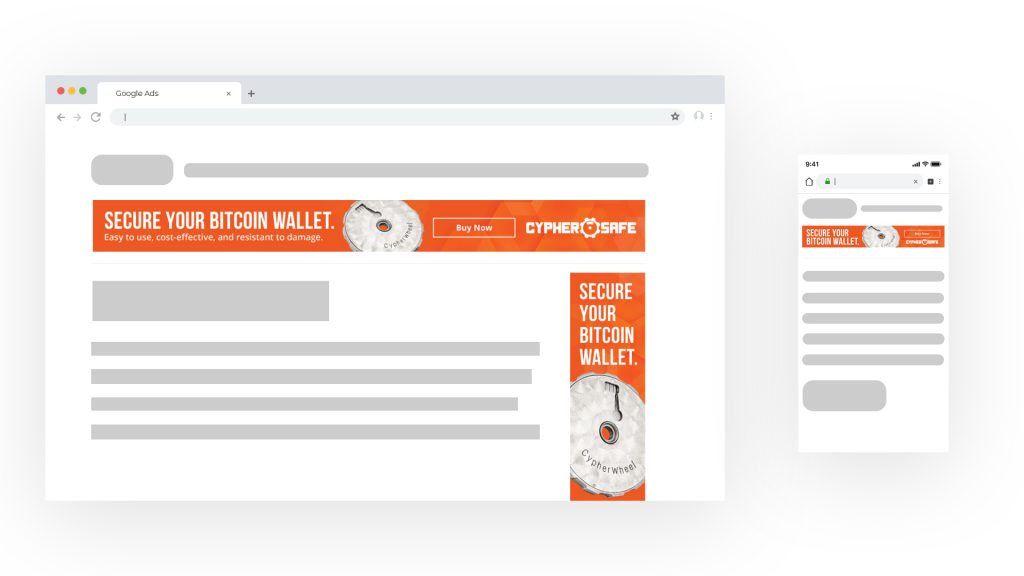 Bangor Area Stormwater Group
The Furniture Gallery
Bangor Federal Credit Union
Maine Holiday Wreaths